ALLOY FRAME CYCLES FOR HIRE
We have 75 cycles for hire a mix of male & female hybrid bikes both ok for the normal c2c route but only mountain bike for off route, e.g. Old Coach Road or Whinlatter forest see map below. We have a few smaller mountain bikes 24" wheels for children.
Our choice of cycles
Barracuda Oregon 21 speed 14 to 34 tooth cassette for easy hill climbing
Male 21"(54cm) 18"(46cm) female 18"(46cm) 16"(42cm)
Adjustable extra high handlebar stem raiser for comfortable ride position
Merida Crossway 24 speed 11 to 34 tooth cassette for easy hill climbing
Male 22"(56cm) 20.5"(52cm) 18"(46cm) female 18"(46cm) 16"(42cm)
Adjustable extra high handlebar stem raiser for comfortable ride position
Merida Ebikes male or female 11 to 36 tooth cassette for easy hill climbing
Small and medium sizes only
Rated at 94 mile range on eco mode with a huge 500wh battery capacity
Due to people having different leg measurement's the Height of a person does not work, the most accurate way is to check the frame size of your own bike, some bikes already have the size displayed on the seat tube in centimetres or inches if not, measure the tube as displayed in the image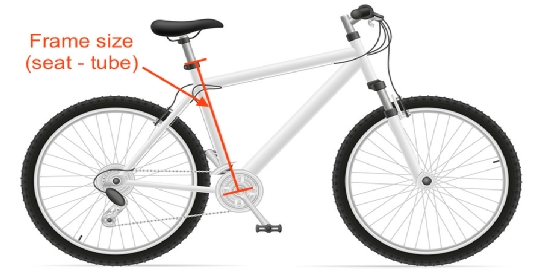 Accessories List
All cycles supplied with:-
All accessories supplied free. If you do not require any items listed they can be removed.
Recommended Insurance UK only:-
It is advisable to take out insurance cover for your cycle trip Travel insurance will not cover cycle hire & trekking in
remote areas, we recommend this insurance link
Select:- Cycle Touring (not competition)

What level of benefits would you like? Check for

(

Bronze Silver or gold cover

)

Now just complete your own details
Approximate price for a man & wife is

£16.00
· International customers should check that they are covered for cycle hire & trekking in remote areas.
Quick Guide To C2C Cycle Hire (you must read the whole document)
Download and complete the booking form then send the email or print and post.

This will inform me you intend to make a booking, returning the booking form will not secure this booking

We require the booking form and payment to be completed

14 days

prior to your arrival, we do not hire cycles for the c2c without prior arrangement.

Debit card payment will receive an acknowledgement and conformation of your booking via email.

Weight limits apply to our bikes, check your weight, see

highlighted

details below.
International customers

should pay by credit card.

Identification is required.

Should you exceed your days on hire you will be required to pay for the extra days hire, @

£5.00

for each day
Cycling maintenance experience is necessary, we charge for callouts.
For a 3 day journey you must be reasonably fit. Training on flat terrain in one day you should achieve 80 miles easily, hilly terrain 60 miles. You will be climbing 10,000 feet over the full 145 mile route, steepest gradient is 26%
1 day tough you must be very fit

2 days hard work you must be fit

3 days you must be reasonably fit

4 days easy most people go for

5 days nice and relaxed you can take time to see all the sights on route, especially the lake district
The Total Weight limit for our cycles must not exceed 16.5 stone = (231 lbs) or 105 kg.
On Route Cycle Repairs
ON ROUTE VEHICLE WITH SPARES FOR REPAIRS
Contact Haven Cycles tell us your problem & location, cost dependant on the nature of the repair and location.
We can supply most parts and carry out your repair if required, If not repairable we can hire you a bike and deliver it to you for your remaining journey.
On Route Emergency Recovery
ON ROUTE CYCLE & RIDER RECOVERED TO A LOCATION OF YOUR CHOICE
Whatever your problem we can organise your recovery, taking you on to the finish, returning you to the start or relocating you to any point on the c2c. recovery costs dependant on your location.
Essential Guides
Sustrans C2C, Hadrian's Cycleway, Reivers, or Lake District cycle routes waterproof maps for sale £8.50 + £1.00 p&p
The best book for the c2c being light and compact is THE ULTIMATE C2C GUIDE this includes Sightseeing, Accommodation, & Cycle Shop information, also detailed street maps of the c2c route through Newcastle & Sunderland £10.00 + £1.50 p&p